Adapting a Tool to measure, monitor, and mitigate MSF's Environmental Footprint
Human-induced climate change is well-documented, acute, and linked to significant human health issues and humanitarian needs.The Environmental Impact Toolkit project team is adapting a tool to measure and monitor MSF's environmental footprint; proposing practical mitigation actions to reduce MSF's footprint while implementing our social mission; and developing a guidance framework for MSF to assist in ensuring ethical, efficient and sustainable practices.

Tell us about the problem you are trying to solve.
The majority of MSF's international workforce and the populations they serve live and work in highly climate-vulnerable regions, making this a critically important issue. Taking action to reduce personal and institutional contributions to pollutants and waste also has positive health and psycho-social benefits and promotes widespread accountability. While MSF has invested in addressing its environmental footprint in the past and is taking some action today, this has been done on an ad-hoc basis. As a global citizen, we believe that MSF has a responsibility to understand, assess, and minimize its environmental impact. We're trying to help take a bold institutional step to do this more holistically.
"Excessive air travel, choice of training locations, the supply chain, the use of plastic materials, medical waste and fossil fuels for vehicles and buildings are all topics to be examined. As an employer, MSF should also facilitate change by providing its teams with the means and frameworks to accelerate the implementation of good practices." – François Delfosse, project team member responsible for developing the environmental roadmap at OCG in the Research Unit on Humanitarian Challenges and Practice.
The Environmental Impact Toolkit is a joint project of the Operational Centre Geneva (OCG) and MSF-Canada, started on the heels of the 2017 International General Assembly motion to "debate and promote actions to develop concrete capacities and expertise around… MSF's impact on the environment."
What is your solution? What motivates you to work on addressing this problem?
Through the development of a simple and agile toolkit and guidance framework we aim to systematically measure MSF's major environmental impacts as an institution rather than on an ad-hoc basis. The tool measures energy use, transport and waste to an initial degree, and offers mitigation suggestions. By providing a tangible assessment of MSF's larger footprint impacts based on available data, it offers MSF the incentive to reduce consumption, gain efficiencies, change behaviour, and make a bold institutional commitment. The toolkit is a pragmatic element of transformation that is both needed and desired. It's not going to be easy but there will be many benefits.
What have you done so far?
The TIC Selection Committee encouraged us to learn from other humanitarian and global health organizations and adapt existing tools and methodologies rather than create something from scratch. We spoke to experts and practitioners such as ICRC's sustainable development advisor, Healthcare Without Harm Europe, Global Green and Healthy Hospitals, Leap Environmental, UNDP's informal inter-agency Task Team on Sustainable Procurement in the Health Sector and others.
We are grateful to have been working with Art Blundell and Tyler Christie of Natural Capital Advisors – external experts with years of experience in managing natural capital, maximizing efficiency, enacting organizational change, and analysing risk. As MSF donors who have also interacted with MSF in the field, they're doubly invested in assisting this TIC project and creating the tool. A team of environmental footprint experts (both internal and external) conducted pilot audits in five different countries – Switzerland, Kenya, Mexico, Honduras, and Canada. They measured impacts and discussed with teams about how to mitigate locally. Through the pilots and insights of the consultants, we already see the wisdom of the adage of "what you measure, you manage."
What results have you achieved?

While these five country locations are but a small sample size of the 70 diverse countries MSF operates in, we found MSF's largest carbon uses, and did a first analysis of regular waste as well as medical waste. Our findings are summarized in the diagram below.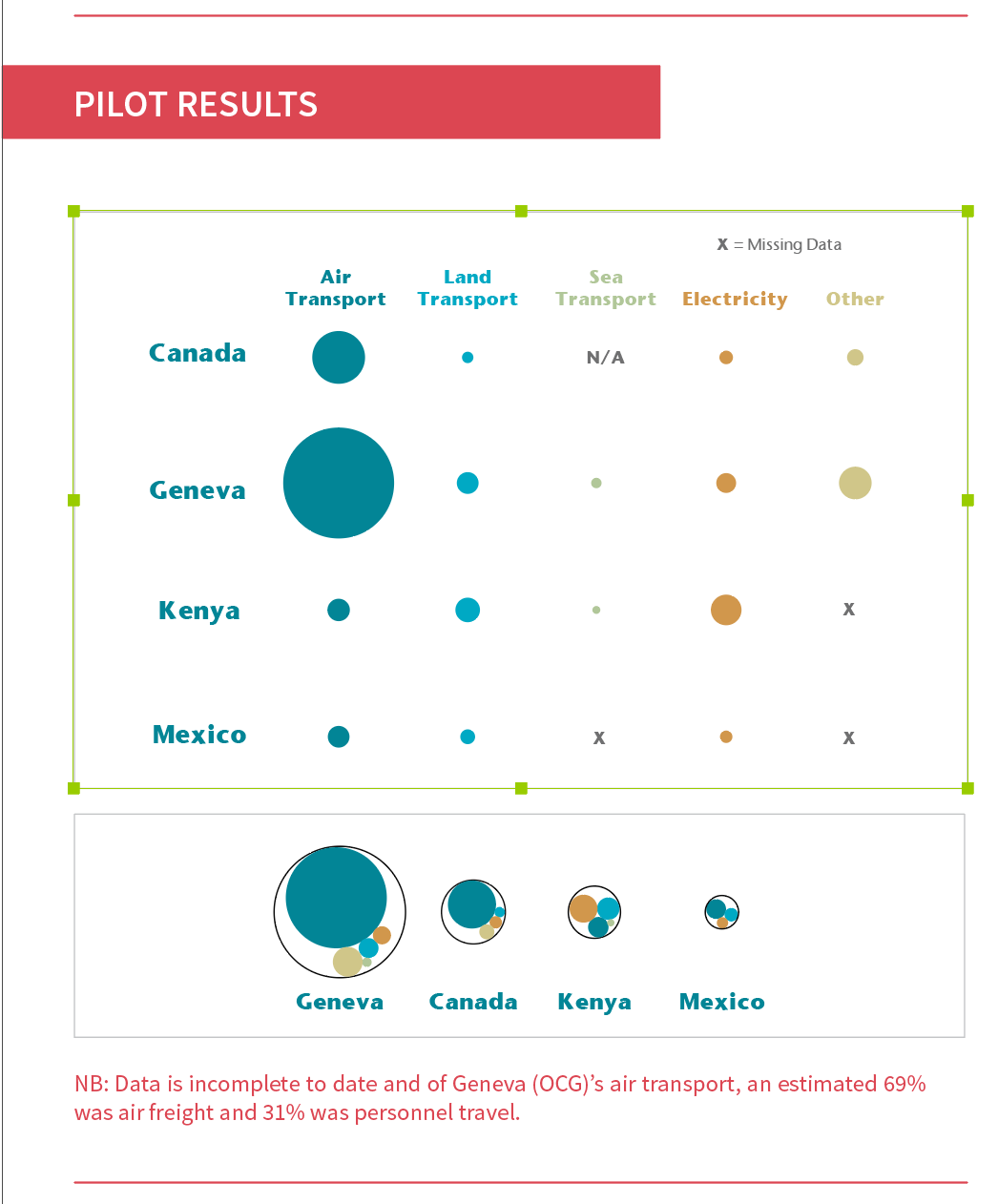 What lessons have you learned?

To transition to clean energy and practice sustainable procurement, we've looked at other initiatives with bigger and longer-term solutions for inspiration. Initiatives such as MSF's operational supply chain reviews, the TIC's Solar Air Conditioning project, and the OCB Energy Vision project illustrate the importance of prioritizing, planning, and cooperating strategically to tackle MSF's larger impacts identified in the pilots such as air freight and air travel. We also learned that it takes leadership commitment and financial investment upfront for long-term benefits of energy sustainability, cost savings, and a healthier environment.
What challenges have you faced? What is next?
We have faced challenges along the way that we used as opportunities for growth and development. Though the pilot audit data was incomplete, it provided a good overview of MSF's largest impacts, and we aim to improve data automation in the future.The pilot locations are not representative of all MSF operations, and the results are not intended to be used comparatively but rather as an individual goal-setting exercise. This allowed us to refine our project as a Version 1.0 diagnostic tool.
In terms of next steps, we would like to take a deeper dive into sustainable procurement and waste/medical waste as a metric, as the tool currently focuses on carbon emissions.
What have staff said about the project?
We've received a lot of questions and encouragement from across MSF – interestingly, we've even had medical groups from Canada and Ethiopia reach out to learn from our journey. Other individuals in the movement are also considering medical waste and ethical material procurement while designing field gear, and we had some enlightening conversations with them. We are continuously seeking feedback from tool users and we want to tell more people about the toolkit through MSF's numerous channels. We also have people ready to use the tool, which is awesome.
Nevertheless, there are also individuals who are less convinced, expressing reservations that this work could potentially detract from MSF's main purpose. These apprehensions and questions are welcomed as it allows a dialogue to be opened up and deepens our understanding of the issues, tensions, concerns and mutuality between humanitarian response and environmental impact mitigation actions.
"We need this, we must reduce our environmental footprint. It's 'humanitarianism at home.'" said Dr. Kennedy Uadiale, Medical Team Leader at MSF Nigeria, about our toolkit at Scientific Days in London this year.
Are there any interesting partners that you are collaborating with?
In addition to working with Natural Capital Advisors, we had the fortune of engaging with additional environmental sustainability experts for the five pilot audits: the Geneva-based company MANECO (specialists in sustainable development research and management), Sebastien Soulier of Interacta (hydrologist, WASH expert, and former MSF WASH Coordinator), Nick Annejohn (ecosystems engineer and former MSF logistician), and María Sol Aliano and Veronica Odriozola (environmental sustainability experts with prior experience leading Healthcare Without Harm Latin America).

What is the expected long-term impact of the project? How will this project improve MSF's lifesaving work and the lives of MSF's patients?
This toolkit can help MSF mitigate its environmental footprint and contribution to local pollution and live up to the medical ethic of "do no harm." By practicing environmentally responsible humanitarianism, MSF can do its part in a resource-limited world with increasing extreme weather events where vulnerable people are at increased risk of becoming even more vulnerable. Internal awareness will encourage leadership to make faster and bolder decisions, such as investing in solar energy now rather than later.